Hi! I'm Maggie McNair. I love Jesus more than anything else in this great BIG world and I want other children to know how amazing he is too. My bug friends and I spend a lot of time outside, exploring God's incredible creation, everything from cute, little tadpoles to breathtaking galaxies. My friends are always ready to answer my millions of questions that every kid has, but they do it in a way that us 'kids' can understand. 
My mom has written some really cool books about me, and my bug friends, to help teach kids about health and hygiene in a FUN way. You can go to MaggieMcNair.com to read more about them. One day she had something really amazing happen to her (God gave her a brand new heart) and decided that children's entertainment needed more wholesome and godly content. That's how Maggie McNair's World came about. She's been busy script writing and animating with her team in hopes to impact children, with truth (and light) all over the world. Keep reading to see how you can help be a part of this exciting adventure.
Hope to see you soon!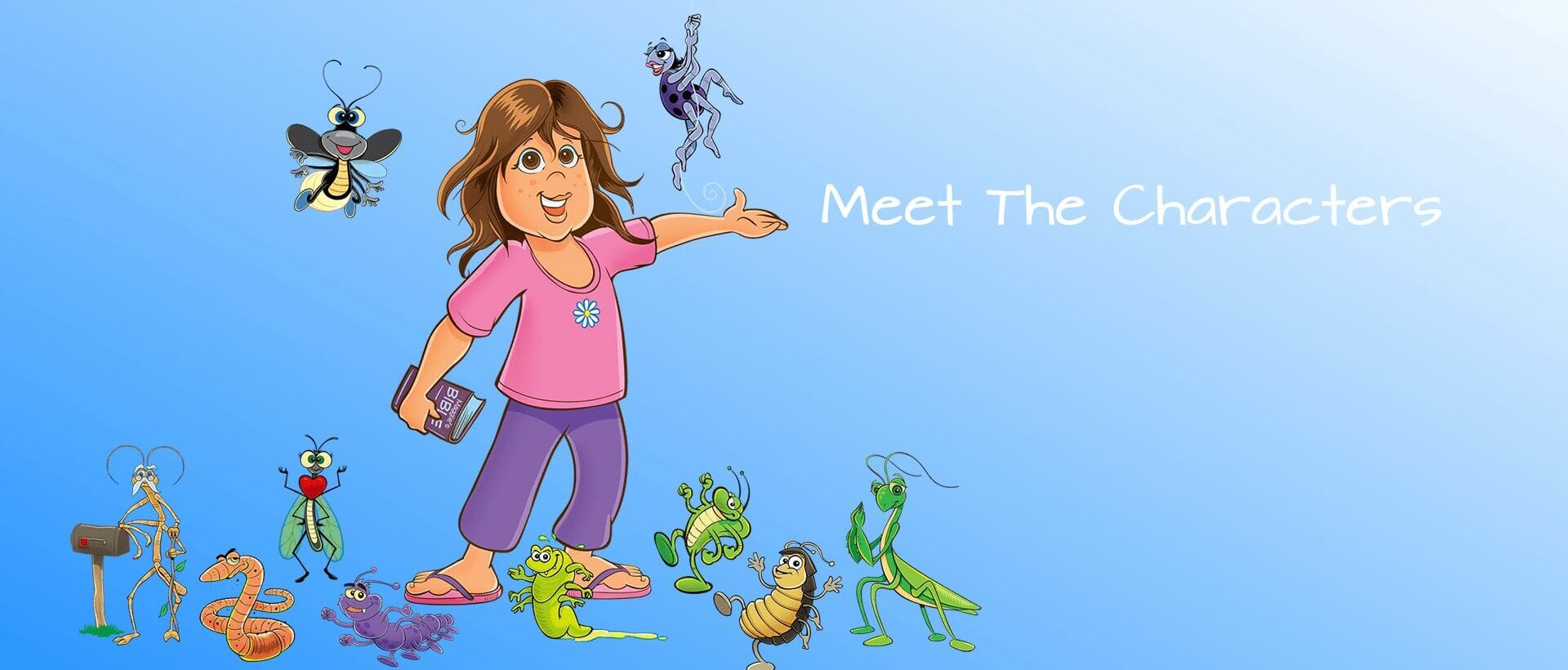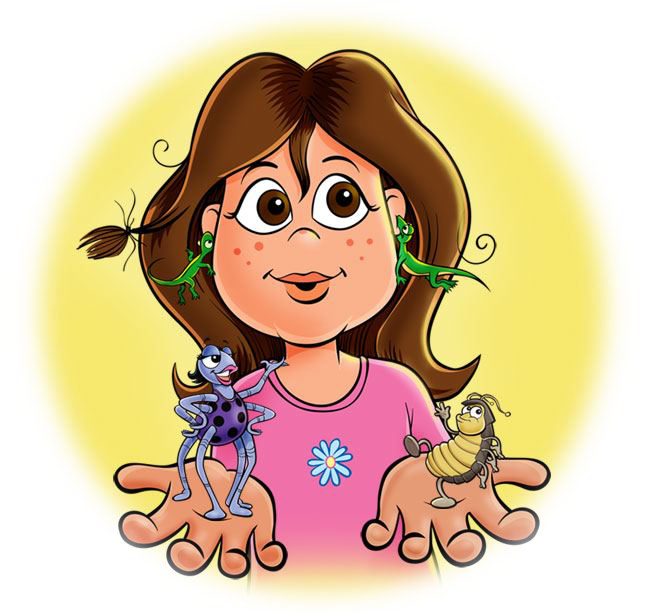 Maggie McNair
A seven year old girl who thrives off of catching tadpoles, climbing
trees and getting dirty, finds the indoor life to be rather boring. With the aid of her vivid imagination, when she steps into her backyard, it becomes an endless world of adventure and exploration. Her inquisitive nature keeps her in wonder of God's magnificent creation. She is respectful and obeys instruction but can be easily influenced and is prone to getting sidetracked.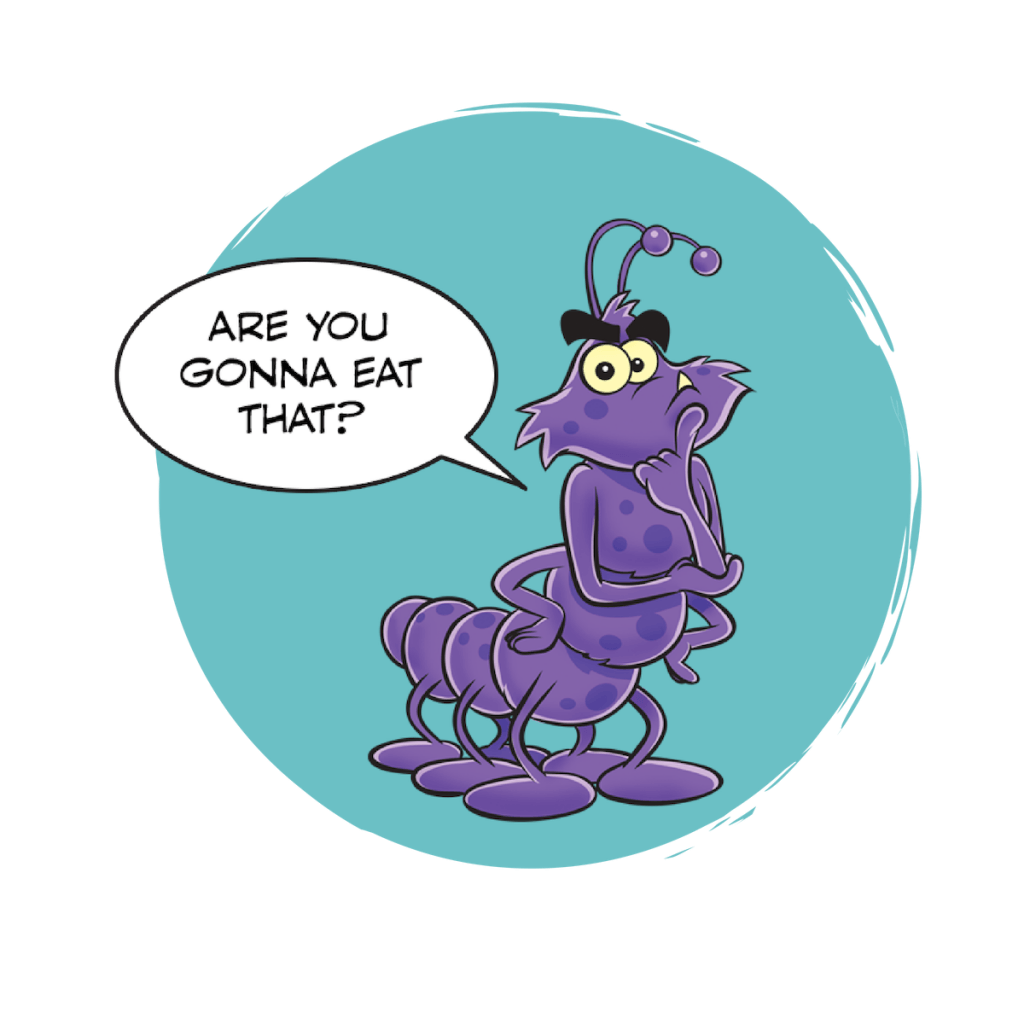 Sugar Bug
Demonstrates SELF-CONTROL (with the exception of sugar, which is his kryptonite) by working to focus on the godly way of thinking, speaking, and behaving. Sometimes Maggie's impulsiveness makes him a little nervous, but other than that, the only other concern for Sugar Bug is not missing a meal.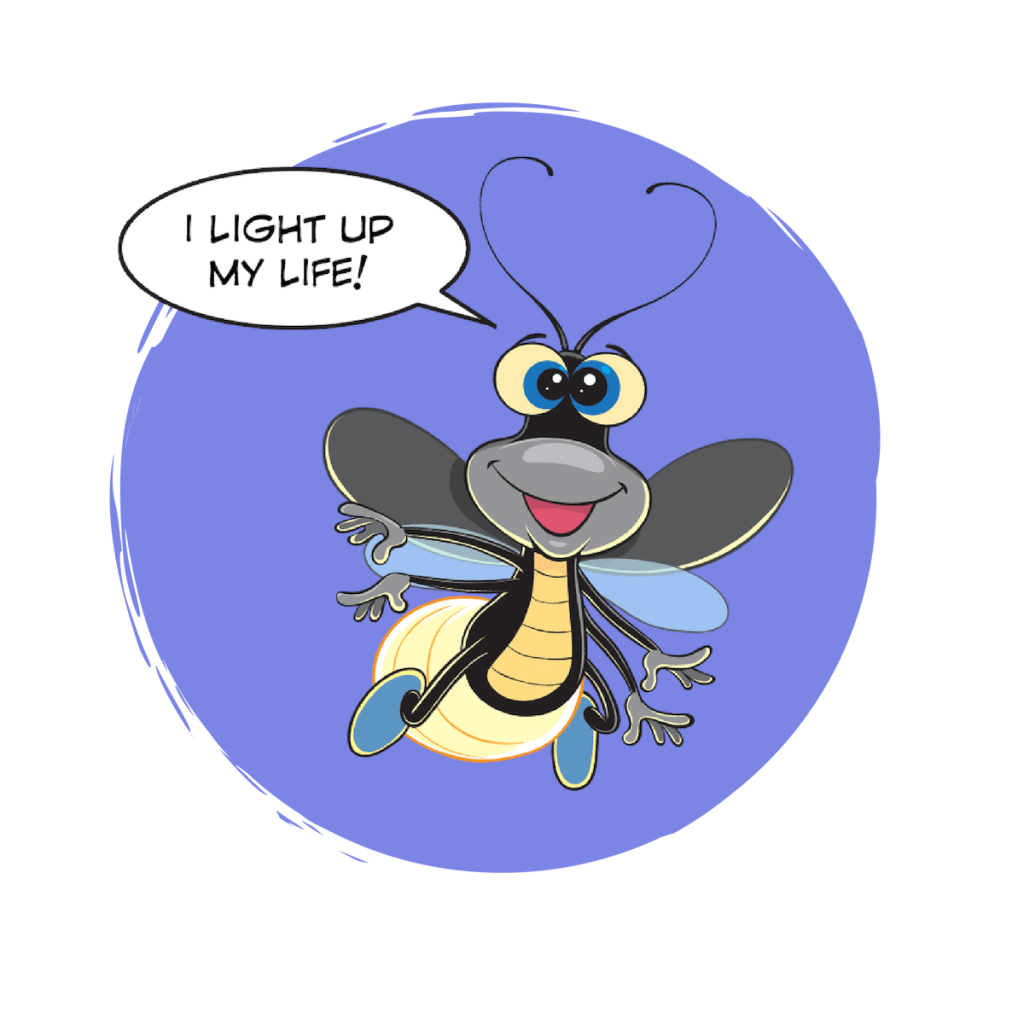 Firefly
A young bug who demonstrates KINDNESS with his warm and
generous spirit. His bright light shines on difficult situations and he speaks up for what's right, even if it's unpopular. Firefly is always willing to help others by going the extra mile.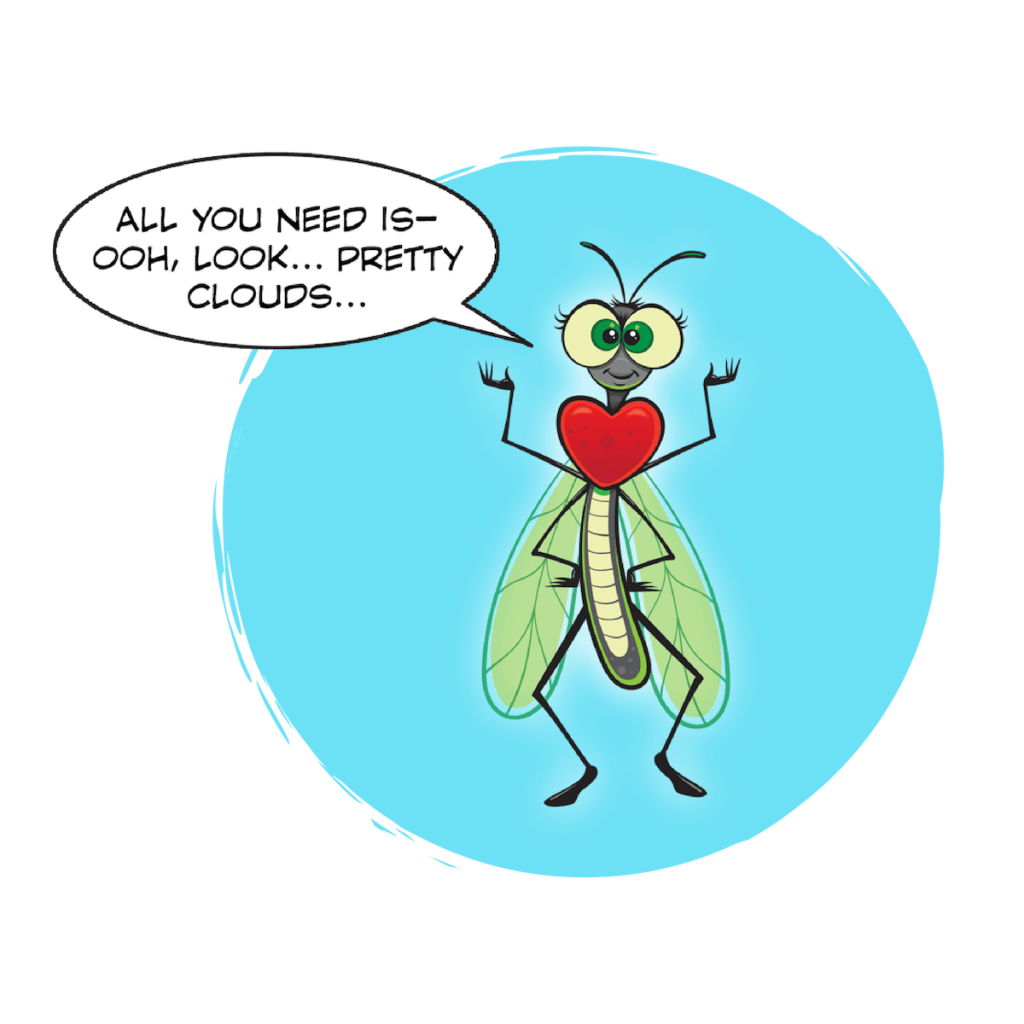 Love Bug
Demonstrates the power of LOVE. She always extends grace to
those who have done wrong, demonstrating to her friends to accept the shortcomings of others. With an attention span of…a…well, a love bug, she flutters here and there, spreading the love.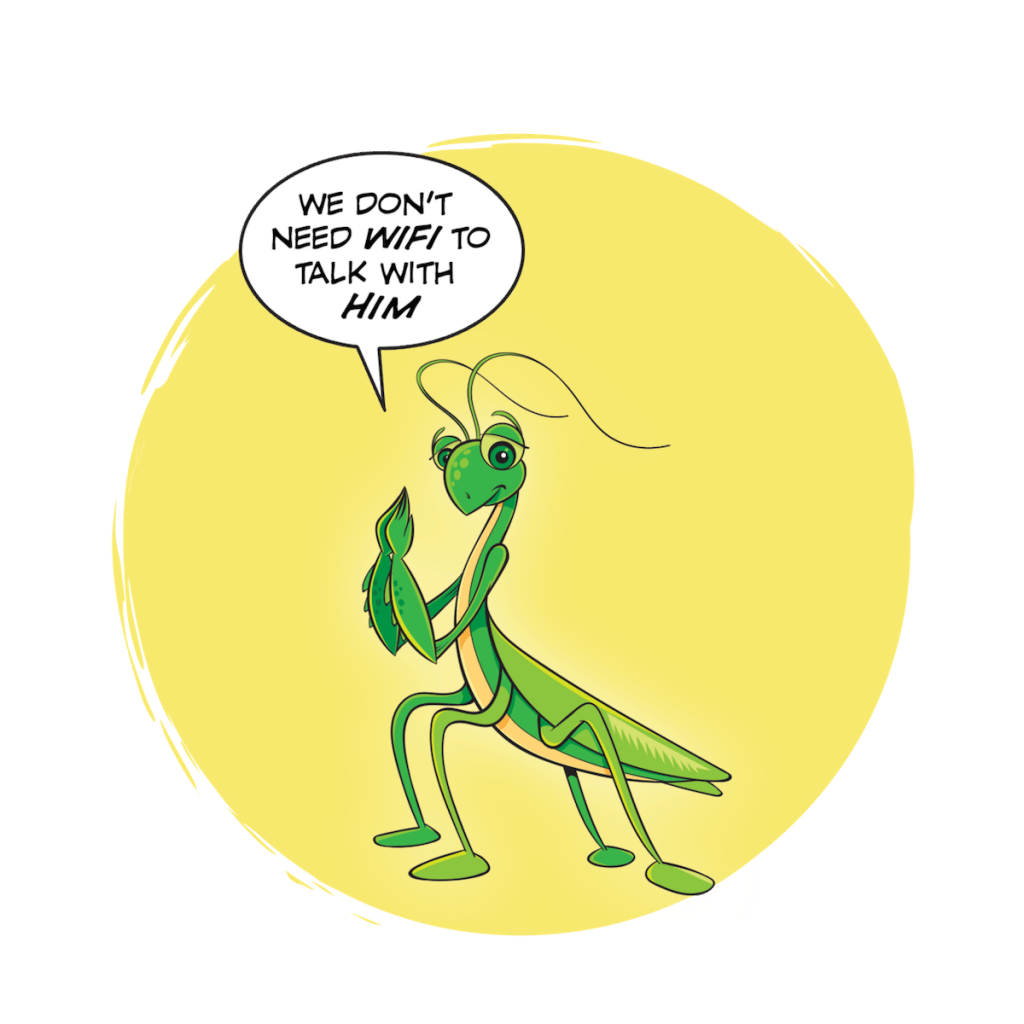 Zamar
A praying mantis who demonstrates FAITHFULNESS. He is the wise, "monk-like" fatherly figure to the friends and advises them through their challenges, but only when they ask. Otherwise, he spends most of his time praying and praising God.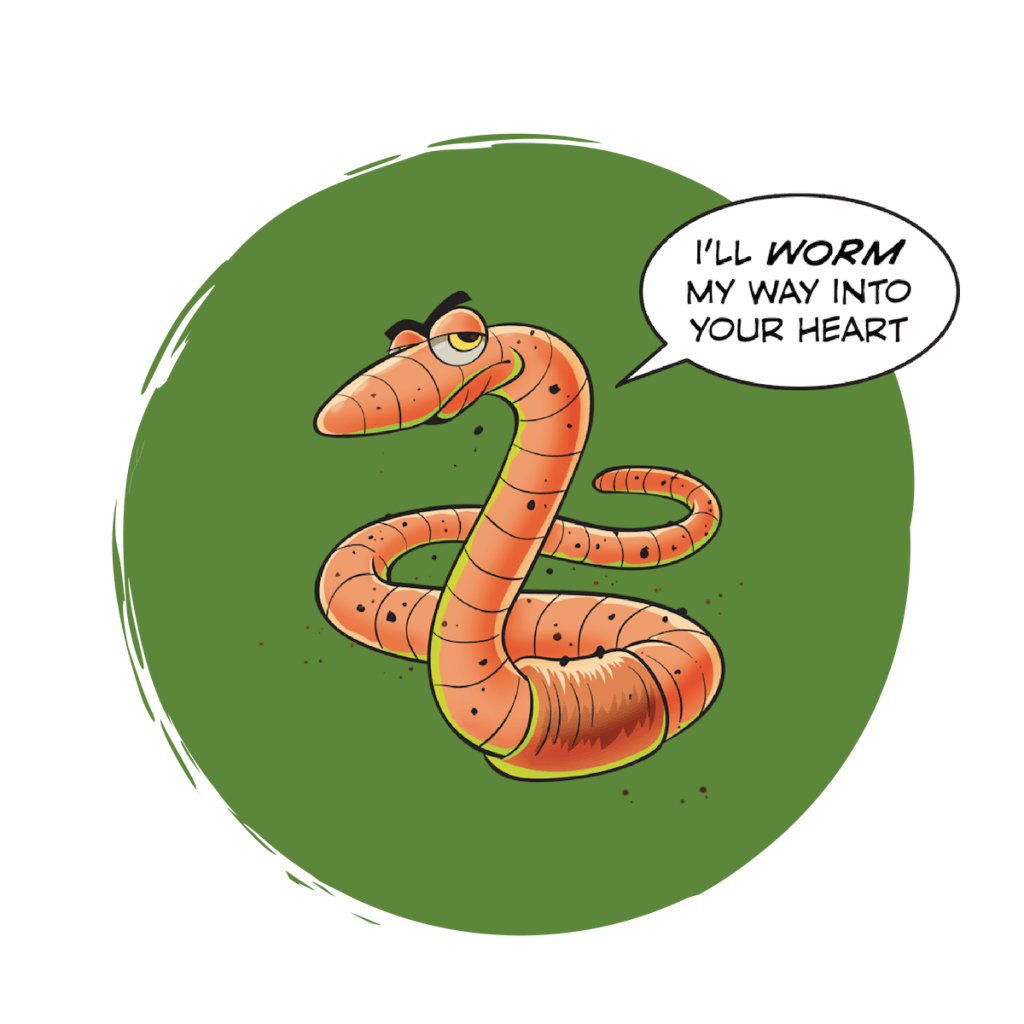 Ace
A sneaky night crawler who creeps in and out of conversation in attempts to create doubt in Maggie's mind. He changes his body into different shapes and tries to trick her into believing that what he says is true. Maggie's bug friends always encourage her to respond to Ace with the things that are written in her Bible.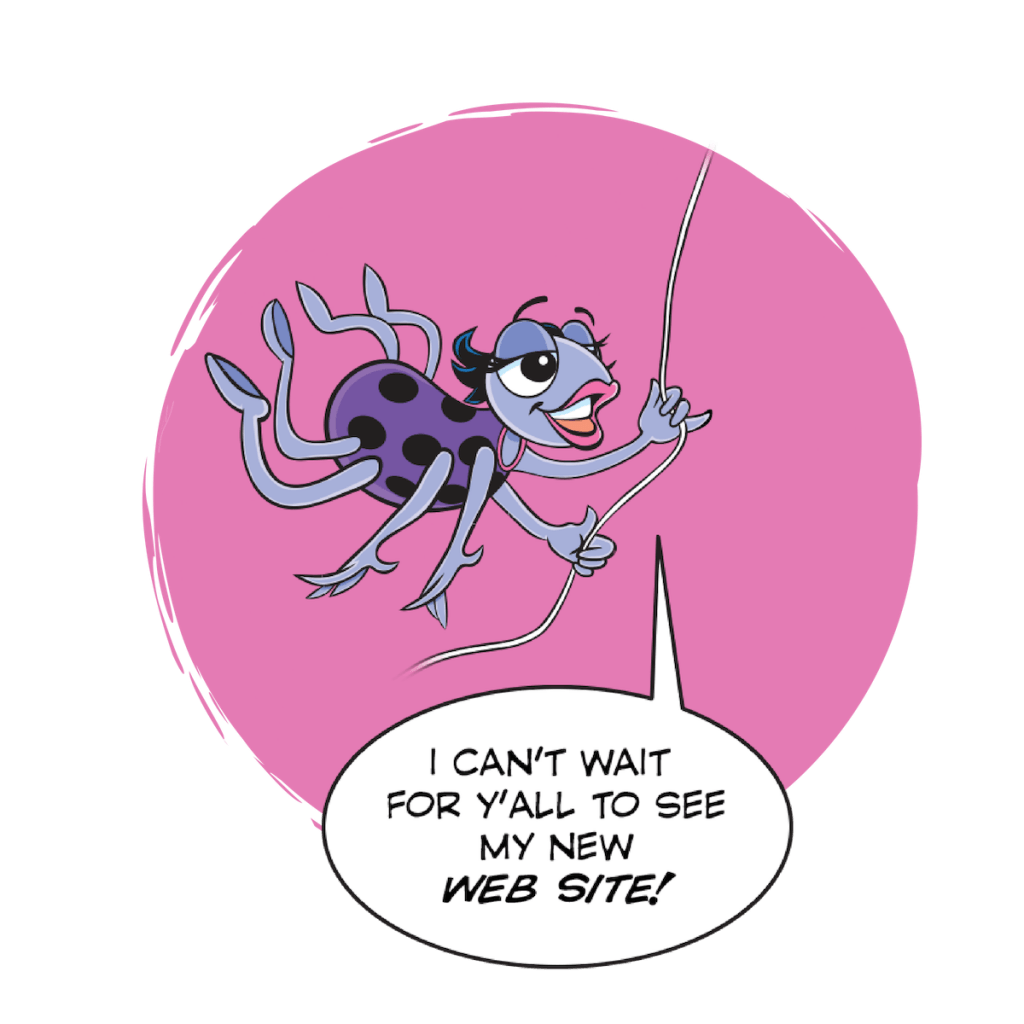 Miss Spider
Demonstrates MEEKNESS and is the motherly figure to her friends. She encourages the group to live and keep pride in check. She often has to gently remind her friends to use their manners. Miss Spider is a very talented "web designer" and never ceases to amaze her friends with her web-spinning creativity.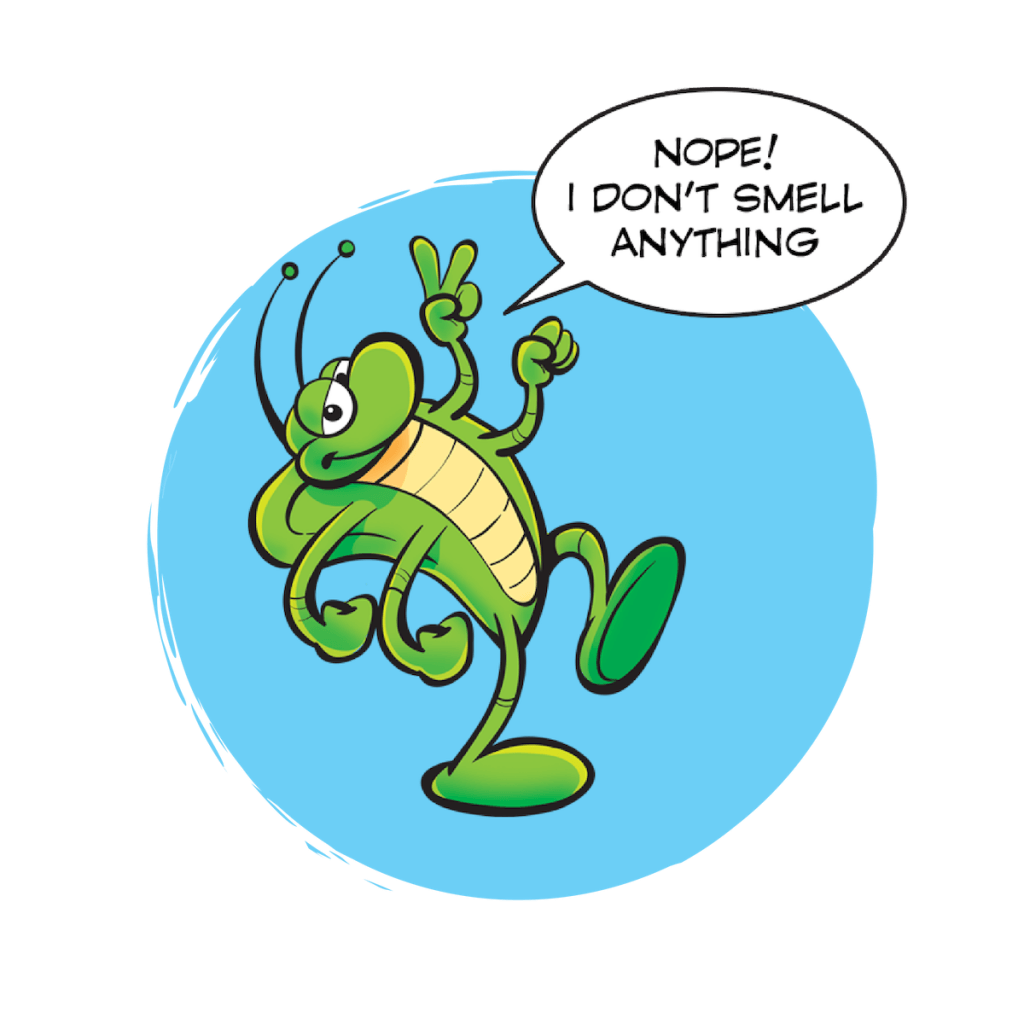 Stink Bug
Demonstrates PEACE in all circumstances. He's quick to go to that secret place in his heart instead of worrying or being afraid, and teaches that true peace can only come from God. He's eclectic, hilarious and can mimic just about anyone's voice.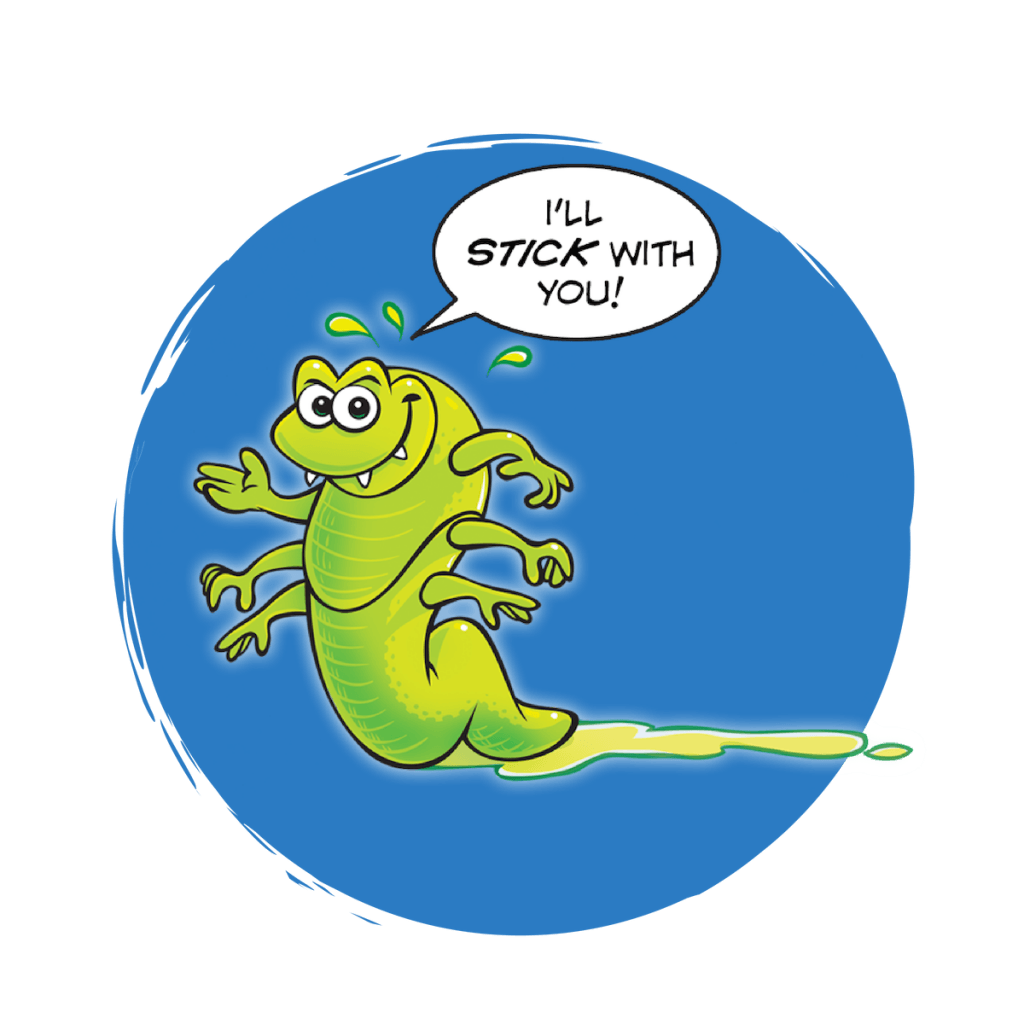 Booger Bug
Demonstrates PATIENCE with his concentrated strength. He's slow and steady, providing an example to his friends that a patient heart can endure through ALL things when you put your eyes on Him. He tends to find himself in sticky situations, along with some sticky messes,but sometimes his stickiness comes in handy.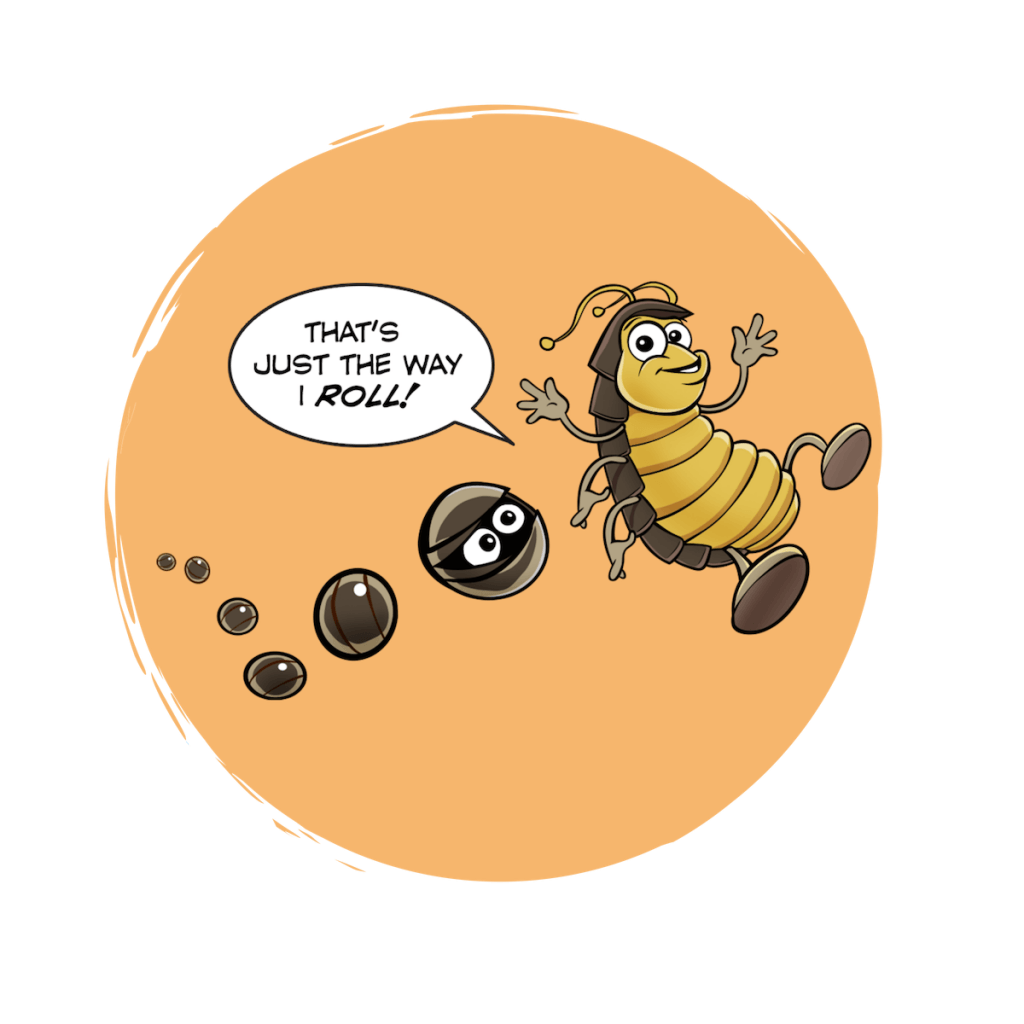 Roly
A roly poly beetle who demonstrates JOY and always comes rolling
in like aball of sunshine, bringing light to every situation.
He's alsoa bit of a jokester and keeps his friends amused (sometimes unintentionally).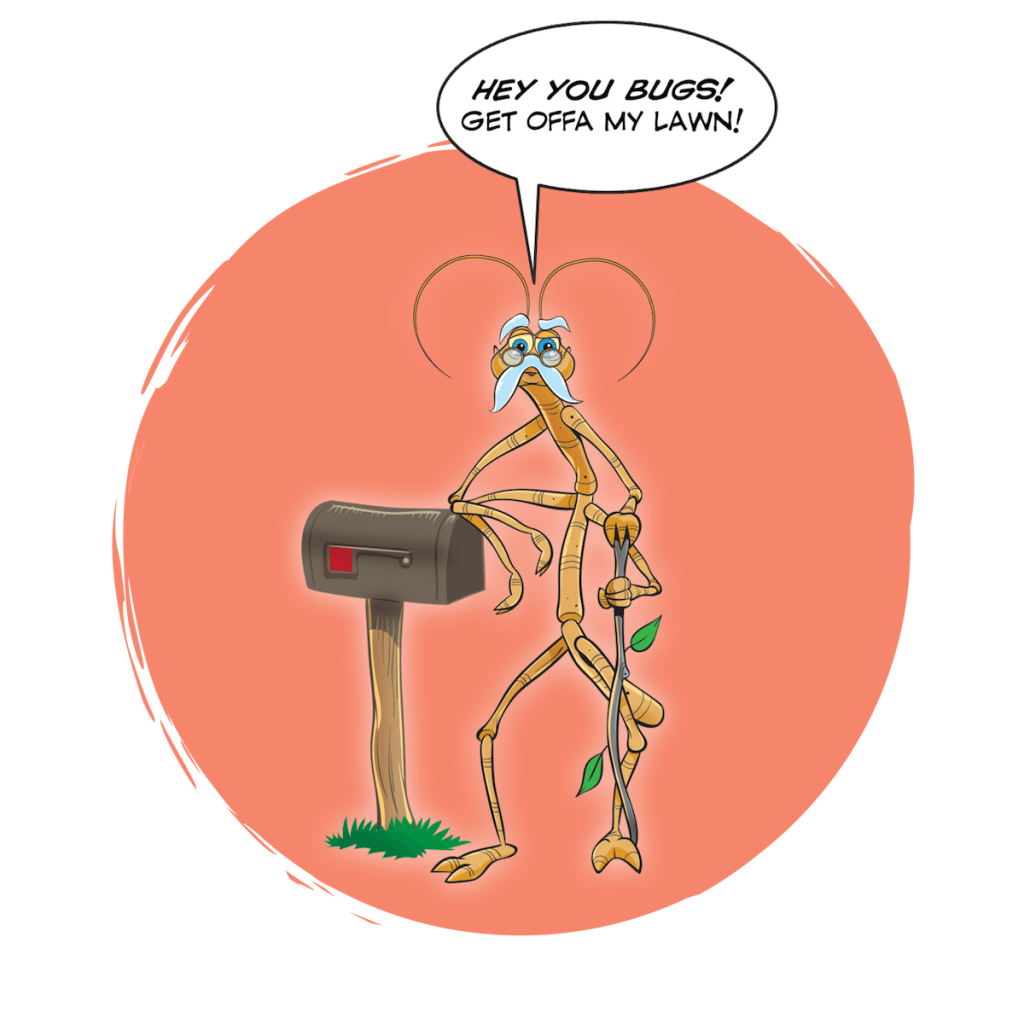 Papsi
A senior citizen stick bug who demonstrates GOODNESS and
shows that doing good for others should be a lifestyle, even
when you may not think it's justified.
He's a bit of an "old codger", and sometimes comes across as being opinionated,but has a soft heart.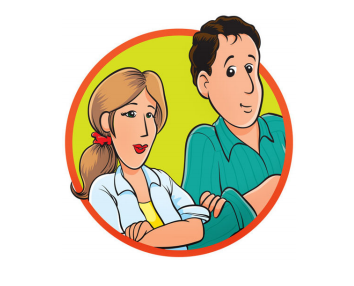 Mom, Dad & Little Brother Mac
Maggie's mom inspires her to live life to the fullest and encourages her
through every mud puddle and mishap along the way. Mom is an author,
blogger and gardener who seizes every opportunity to plant seeds in her
garden and in others which will blossom into beautiful fruit. She encourages
Maggie to eat oodles of vegetables that she grows in her garden and
prepares for meals. When picking up Maggie's room, she continually finds
sleepy bug friends who have hitched a ride inside. She promptly
(but gently) tosses them back outside.
Maggie's Dad is the captain of her heart, but because of his job as a cargo pilot and missionary work, he is away from home more than Maggie would like. His work inspires him to see the usefulness in everyone and everything. This sparks in him a passion to salvage things that others have tossed out, or would consider junk, and repair or restore them (with varying levels of success). Dad finds the bug friends entertaining and loves to join them and Maggie when he can.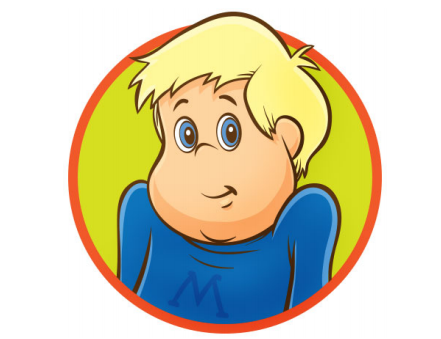 Mac (yes Maggie, we have to mention Mac) is Maggie's 5- year- old pesky,
but brilliant brother. He loves to rat Maggie out to their parents when she isn't
following the rules. Mac's scientific mind causes him to question much of
what Maggie says, leading him to test and experiment any new idea she
presents. Maggie finds his inventions useful when she needs a new gadget for
her tree house, but it always comes with a price. The bug friends are
constantly trying to escape Mac's grasp to avoid being a scientific study in the
dreaded..."JAR!".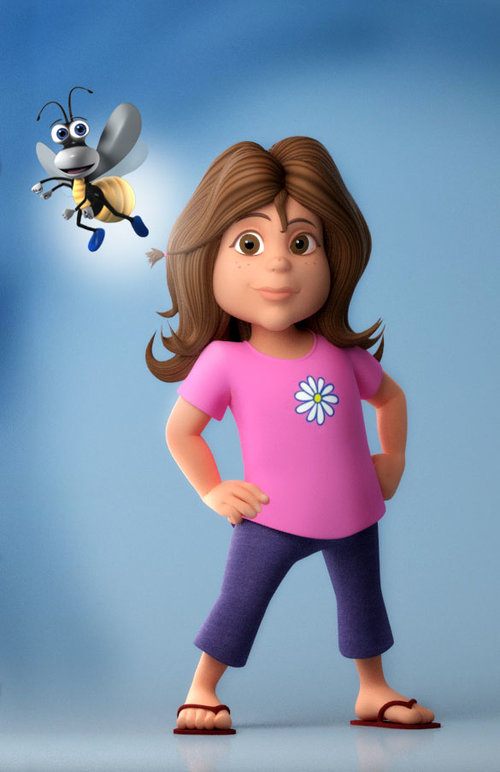 MAGGIE MCNAIR IN 3D ANIMATION
My mom, dad, aunts, and uncles all wanted to see what I'd look like animated in CGI 3D. Well, here I am! I don't mean to sound proud, but I think Firefly and I look pretty cute this way! I overheard my family saying they wanted Maggie McNair's World to be an animated feature film that would be as good of quality as Disney and Pixar, but filled with more Light. One night, they filmed me when I was feeling down, but don't worry, Firefly cheered me up. They prayed this video would plant a seed, then others would come along and water it, and after some time, everyone would praise God as it grew. My bug friends and I are the main characters and all we have to do is be ourselves—a kid and bugs that love Jesus, life, and others. I hope you enjoy our video.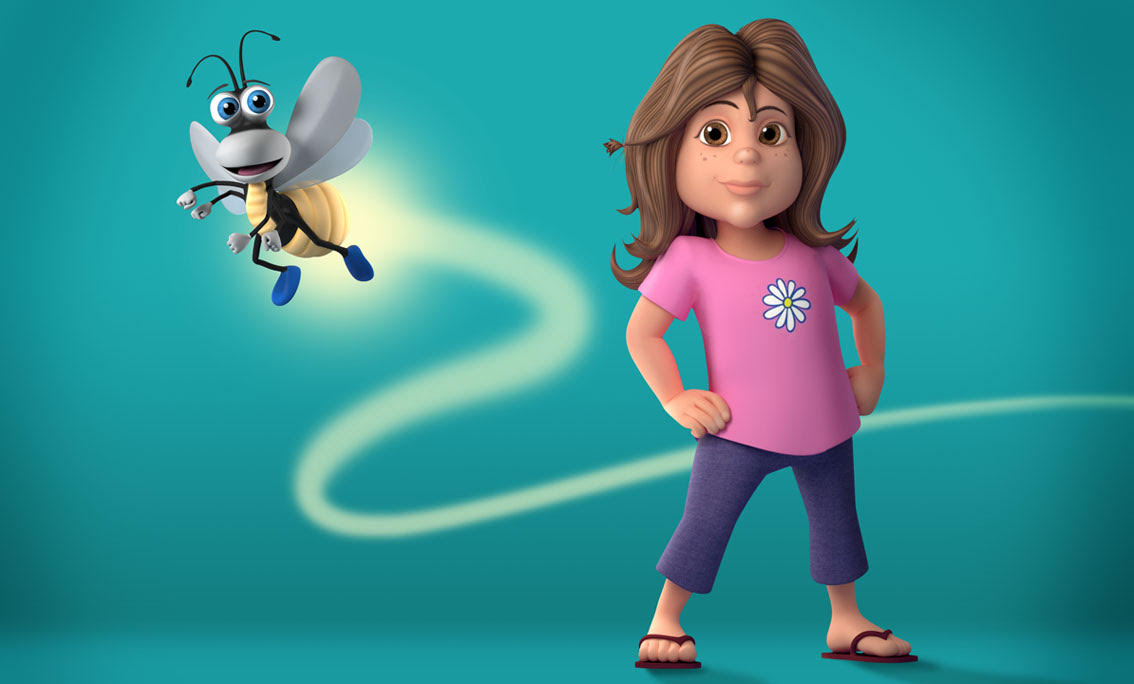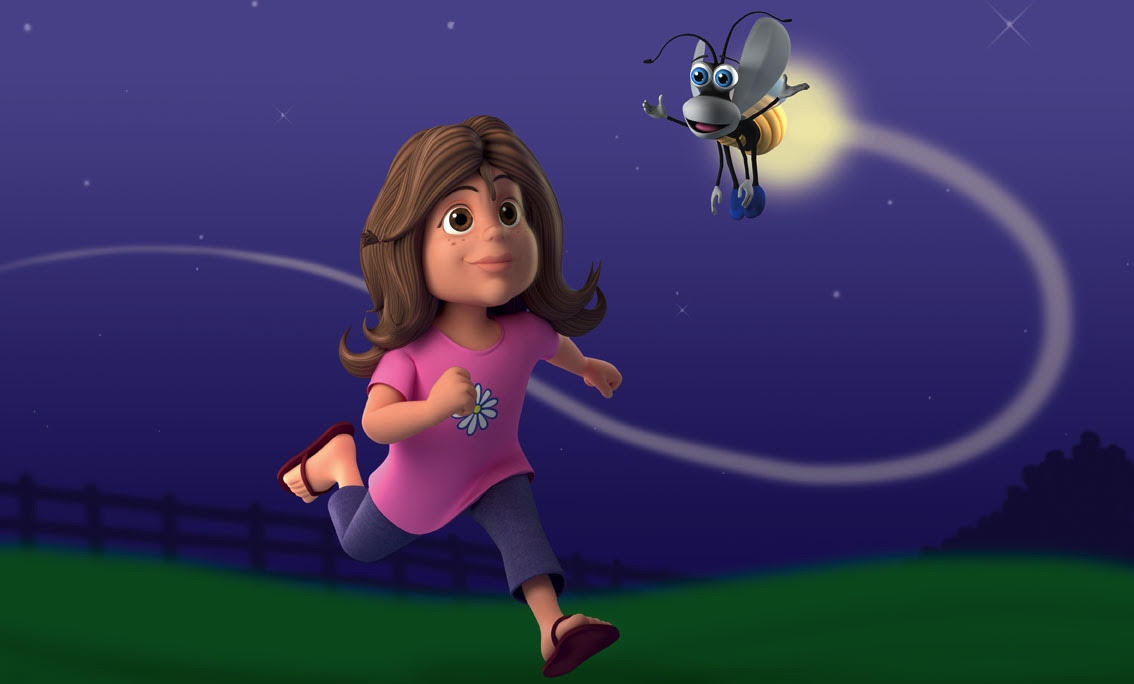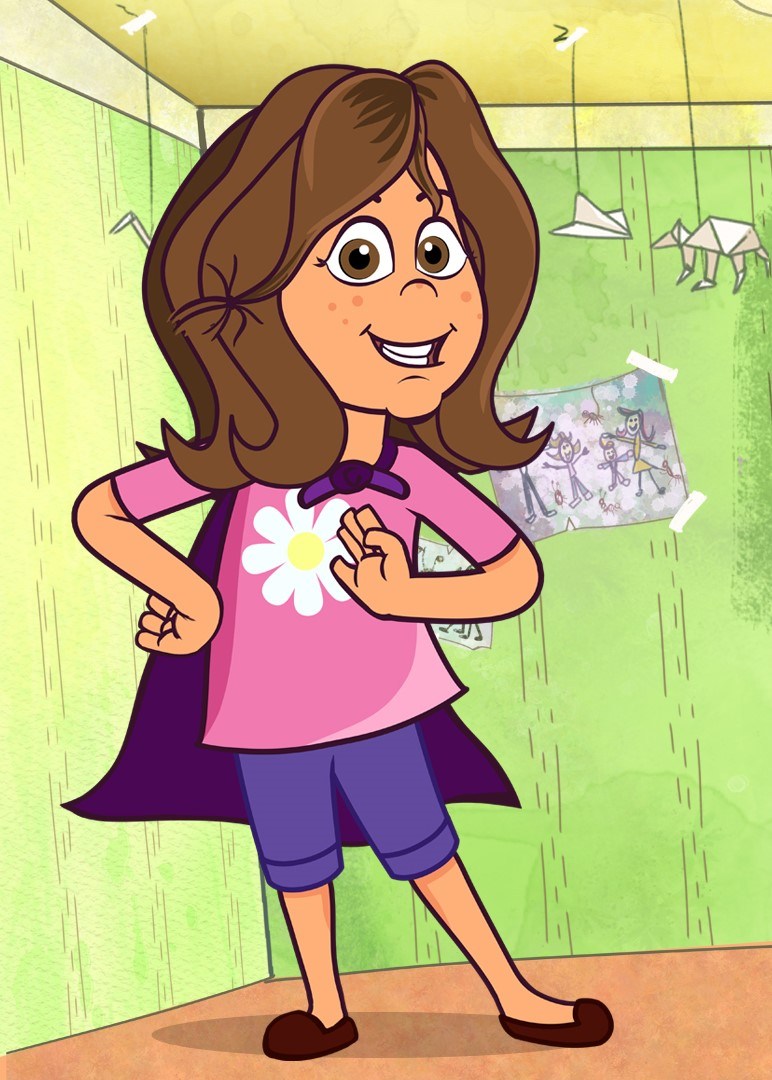 These are a few of the hundreds of "whys and hows" that swirl through Maggie McNair's mind. She's a brave and courageous seven-year-old girl with her own style. She isn't fond of taking baths or brushing her hair. Getting dirty is much more exciting! Her ability to embrace fun is contagious. Playing outside and exploring every square inch of God's amazing creation is the only thing on her mind. Maggie's world encompasses her backyard and beyond. It's filled with everything a kid could want: a treehouse, playhouse, zip line, a creek, great climbing trees, a fishing pond, and woods to explore. This is where Maggie meets her nine best friends, who happen to be bugs.
INTERNATIONAL CHRISTIAN FILM AND MUSIC FESTIVAL 2019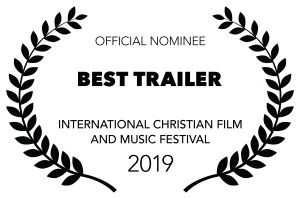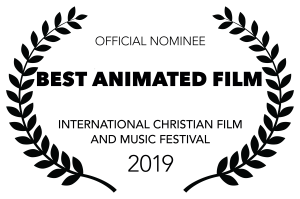 A CHRISTIAN SERIES FOR KIDS
WHERE KIDS CAN BE KIDS, BUGS CAN BE BUGS, AND GOD CAN BE GOD
FOUR WAYS YOU CAN SUPPORT MAGGIE'S MISSION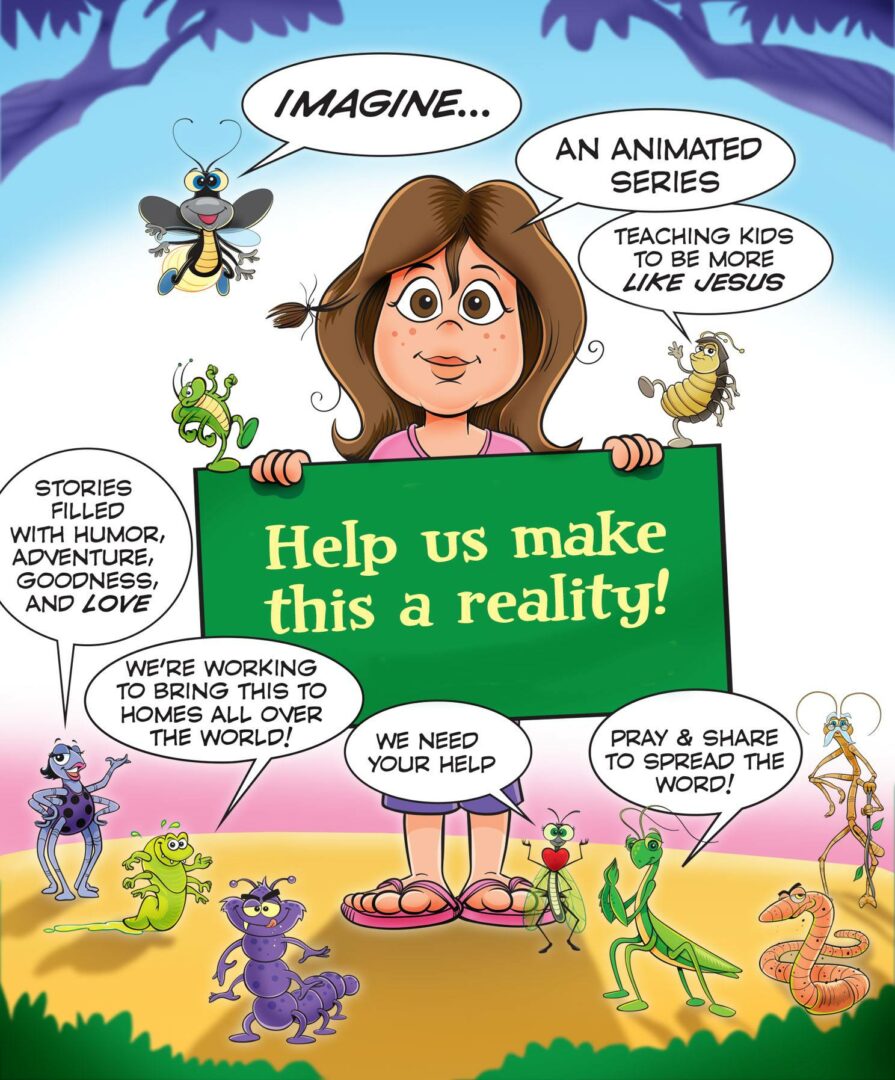 1. PLEASE PRAY ABOUT HOW GOD WOULD USE YOU IN THIS PROCESS
Creator of Maggie McNair's World, Sheila Booth-Alberstadt, was an unbeliever until the age of forty-one when God gave her His eternal gift—faith to believe. Now that she knows Him, it's her life's mission to share the simple truths about God with children, near and far, in a visually fun and engaging way.
Sheila became disheartened by the lack of wholesome, godly entertainment for children in today's world—a world that's getting darker by the day — and therefore she found an even greater NEED to impact them with godly principles, while building virtuous character. Sheila has prayerfully formed a creative team of artists and like-minded members to develop Maggie and her nine bug friends (each representing a fruit of the Spirit) to become positive role models in children's lives.
The message in each script is intended to equip children, and adults, with a better understanding of Christianity in a simple, non-preachy way. Sheila says, "Kids are always being told how to act, but we need to remember, they learn best by observing others. Let's SHOW children what it truly LOOKS like to love God, people, and bugs." Sheila also recognizes the lack of quality with many Christian programs, mostly due to funding. She is determined to make Maggie McNair's World comparable to Disney or Pixar-"Why wouldn't we?" she adds.
2. PLEASE SHARE OUR MISSION
ALONE WE CAN DO SO LITTLE ~ TOGETHER WE CAN DO SO MUCH
CHURCH LEADERS — FELLOW BROTHERS & SISTERS IN CHRIST: Please come together and help us share this mission on social media with your church, family, friends, and community. We NEED your Help, Support, and Prayers.
3. DONATE TO MAGGIE'S PRODUCTION
HELP US CHANGE WHAT GOES INTO OUR CHILDREN'S HEARTS
We wish we didn't have to ask for help but unfortunately animation is very expensive. We welcome investors to get in contact with us to see this project through. If you feel led to donate, please know that every dollar will go toward producing this animated series. Your donation will make a difference!
4. PURCHASE MAGGIE MCNAIR BOOKS
Book Proceeds Will Help Fund Maggie McNair's World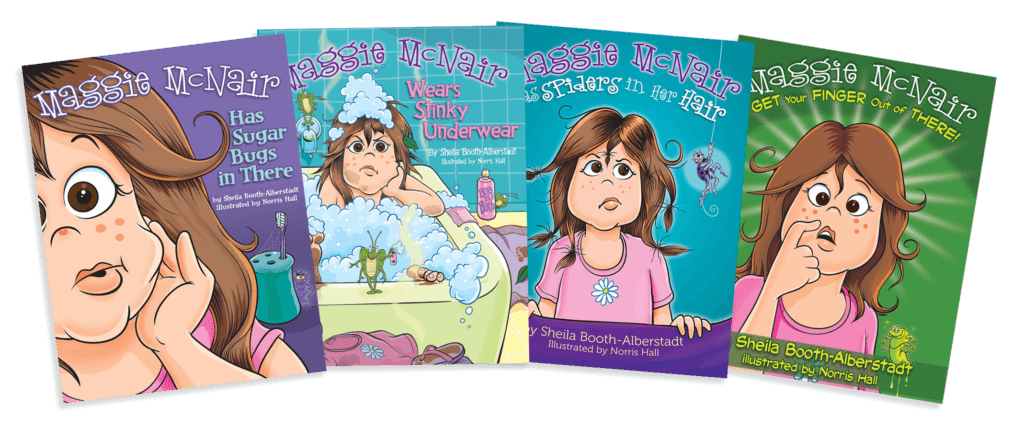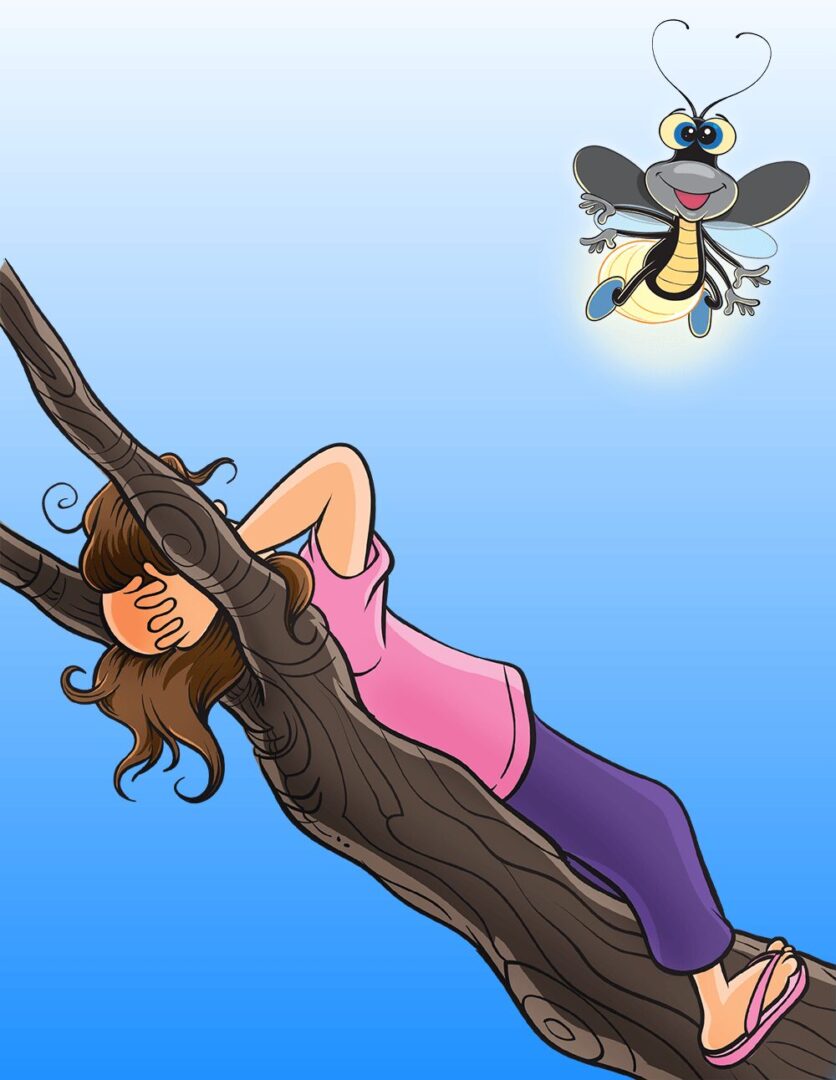 AN ANIMATED, FAITH-BASED SERIES FOR KIDS
Why do centipedes have so many legs? Why do honey bees dance? How on earth does a firefly's bottom light up?
These are a few of the hundreds of "whys and hows" that swirl through Maggie McNair's mind. She's a brave and courageous seven-year-old girl with her own style. She isn't fond of taking baths or brushing her hair. Getting dirty is much more exciting! Her ability to embrace fun is contagious. Playing outside and exploring every square inch of God's amazing creation is the only thing on her mind.
Maggie's world encompasses her backyard and beyond. It's filled with everything a kid could want: a treehouse, playhouse, zip line, a creek, great climbing trees, a fishing pond, and woods to explore. This is where Maggie meets her nine best friends, who happen to be bugs.
Maggie's bug friends are fascinated by her adventurous spirit, but they also have to keep a close eye on her because her inquisitive nature and impulsiveness can get her into trouble. Plus, her adversary, Ace the night crawler, is always trying to trick her into believing lies—and she can be easily influenced. She's just too busy to remember all the rules. Her bug friends are instrumental in her spiritual growth, as each one represents a fruit of the Spirit.
In short animated episodes, Maggie and her comical bug friends, like Stink Bug, who values honesty and peace (and a ripe odor); Firefly, who is always kind (and oh so cute); and Papsi, a stick bug who's good and wise (and cranky), all tackle hard questions and moral dilemmas that children often face regarding God, faith, and just being a kid.
With lightheartedness and a sense of humor, these topics are handled with sound biblical principles, without being "religious." In Maggie's World, character always counts and consequences become the teacher.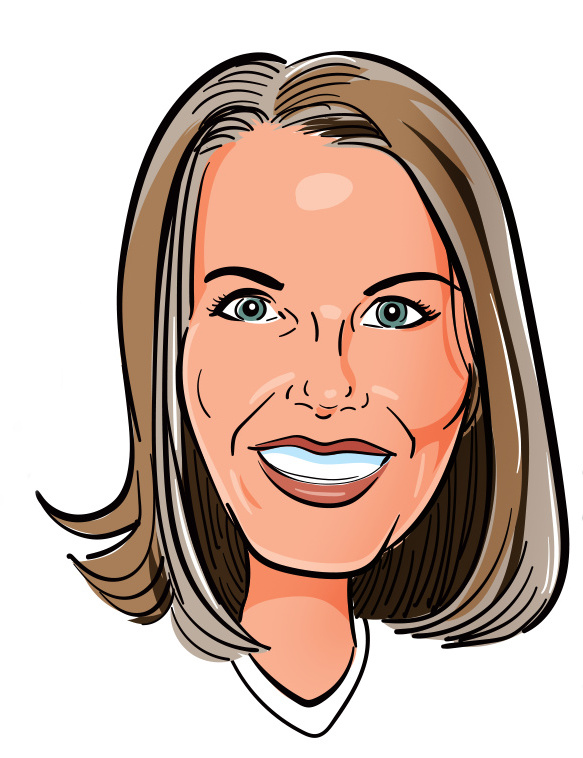 SHEILA BOOTH-ALBERSTADT is the author of the popular Maggie McNair series and the founder of SBA Books. Born in Kristiansund, Norway, and raised in Vero Beach, Florida, Booth-Alberstadt studied communication and journalism in college. After graduation, she worked in the insurance field, starting her own agency in Fairhope, Ala. in 1997.
Booth-Alberstadt began writing children's books when she first started having children. Her love for storytelling and writing became apparent in her earlier years while spending summers in Norway. In 2009, Booth-Alberstadt created SBA Books as a platform to publish her children's books as a hobby.
Over the years, SBA Books has grown and presented Booth-Alberstadt with endless opportunities, ranging from ghostwriting to creating pitch bibles for animated TV series. Booth-Alberstadt's writings cover topics addressing health and hygiene, from a comical perspective to dealing with the consequences children face because of parental choices.
With Booth-Alberstadt's passion for serving others, coupled with a heart for God, her number one priority is shining light into a world that is filled with darkness. Her newest project resulted from God converting her from an unbeliever to a born again Christian.
She hopes to transform her Maggie McNair book series from teaching health and hygiene to an animated series, Maggie McNair's World, where kids can be kids, bugs can be bugs, and God can be God. She, her husband Stephen, and their family currently live in Fairhope, Ala.
Norris Hall started his studio in 1987. Over his 31-year career, he has been commissioned by Disneyland Paris, AT&T, Charter Communications, Tennessee Performing Arts Center, Nashville International Airport, Children's Discovery Center, Linebaugh Public Library, Skokie, IL Public Library, numerous schools, authors, pediatric dental offices, orthodontists' offices, and pediatricians' offices for all sizes and types of installations, illustrations, and artwork.
He has been featured twice on HGTV, designed two "Art Tags" Tennessee auto license plates, illustrated numerous children's books, and designed the set and costumes for the Nashville Ballet's production of Peter and the Wolf. Norris stays busy with illustration, graphic design, printing, and making quirky, custom office signs.